In the past, medical buildings were primarily designed and built around functionality for patient clinical care. Today, patient satisfaction and experience have risen to new levels of attention thanks to a more holistic understanding of patient-centered care. In short, bedside manner matters and includes a broad mix of intangible and tangible factors. Practicing medicine in the era of the patient experience is more akin to customer touchpoints in a retailer's environment.
Beyond clinical care, the physical appearance of the practice and how it interacts with the patient represents the most permanent and tangible opportunity in a medical practice to positively influence the patient experience (and satisfaction). For example:
Is the practice conveniently located?
Is on-site signage directionally clear to find the practice?
Is parking convenient and ample?
Does it make sense to have more accessible parking than code requires?
Are the grounds and landscaping inviting and well maintained?
Is the front door wheelchair accessible and easy to open?
Does the building portray professionalism and attention to detail?
Architecture and interior design have a profound effect on the human psyche. For example, a clean, modern, steel and glass waiting room can convey a sense of high technology at work. On the other hand, it can also evoke a cold and impersonal environment where the patient feels like they're just a cog of your healthcare conveyor belt of service. Such tone and tenor need to be thought through, decided upon, and built into your medical office experience.
Let's Discuss Your Medical Development Project
"Buildings and urban spaces should be designed first and foremost around their occupants," says Dr. Sergio Altomonte, architect and associate professor in the Department of Architecture and Built Environment at The University of Nottingham. "The importance of architecture as a trigger to physical, physiological, and psychological well-being is nowadays becoming a topic of significant relevance." source
It Pays To Plan Right
Patients are increasingly surveyed for satisfaction, and those surveys are increasingly tied to medical reimbursements. Medicare payments were the first to tie performance and penalties to pay. Expect more reimbursement systems to follow in both government and insurance plans.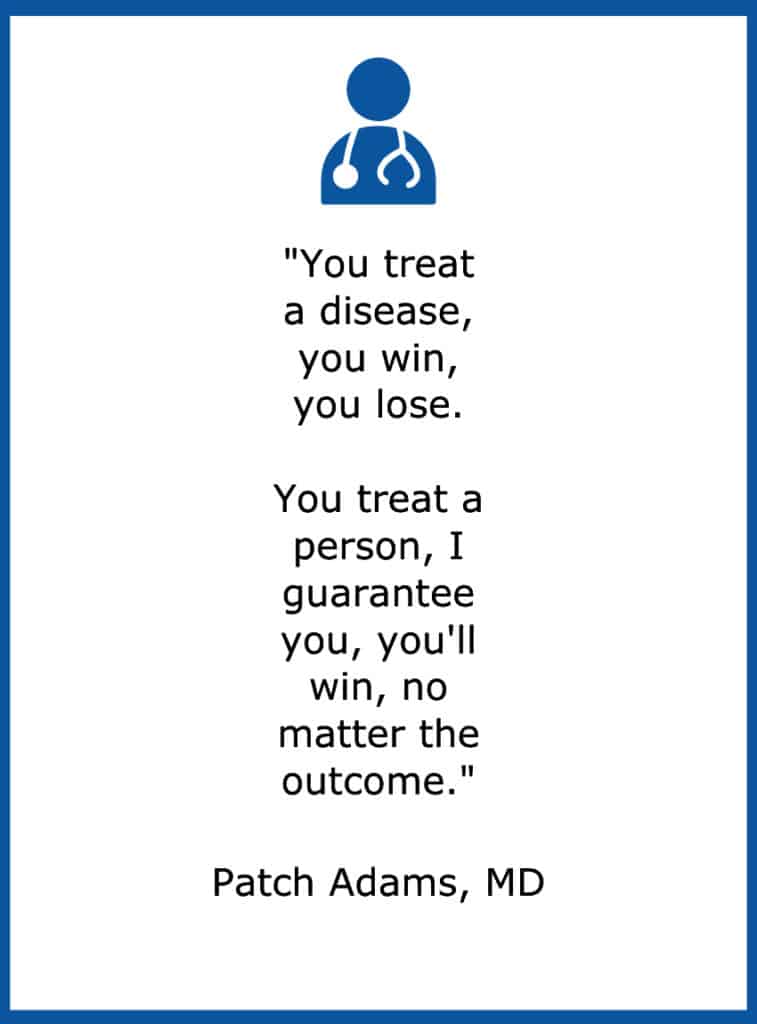 In short, healthcare professionals are being held to higher standards and a broader definition of what constitutes patient care. It is Patch Adams 4.0, if you will. Your medical practice is now seen through the eyes of a "consumer" of products and services such as Apple, Ritz-Carlton, or Mercedes-Benz. Look no further than AdventHealth, Orlando Health, and Nemours as they battle for market share in the Greater Orlando market.
The Agency for Healthcare Research and Quality (AHRQ) states, "Patient experience encompasses the range of interactions that patients have with the health care system, including their care from health plans, and from doctors, nurses, and staff in hospitals, physician practices, and other health care facilities. As an integral component of health care quality, patient experience includes several aspects of health care delivery that patients value highly when they seek and receive care, such as getting timely appointments, easy access to information, and good communication with health care providers."
Building on a Budget
A physician building doesn't have to be the Taj Mahal of medicine to provide a top satisfaction rating. It needs to be designed and built right with both the clinical and patient needs addressed in a cohesive and competent manner. It also needs to be financially prudent for the practice and, where applicable, to the partners.
McCree is your one-stop shop to clarify and integrate your clinical care, brand, and physical space needs. Regardless of whether you need an addition, remodel, or new building, it starts by booking an appointment for what we call a Construction Conversation.
Request a copy of the Concept to Keys Leaders' Guidebook produced by McCree. Discover the 10 steps needed to go from idea to occupancy. Use the form at the bottom of this page to make your request.
McCree General Contractors & Architects is compliant and experienced with The Agency for Health Care Administration (AHCA), Infection Control Risk Assessment (ICRA) standards, and Interim Life Safety Measures (ILSM).