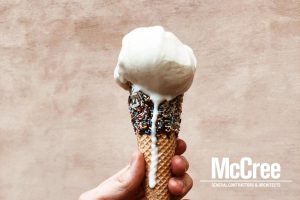 Sweltering Florida summers cause more than a mass exodus to the north or to the beach. The intense heat and summer thunderstorms often create delays in construction. From labor shortages and worker safety concerns to problems with construction materials, weather factors impact construction timelines and project costs throughout the state. Anticipating and planning for these potential concerns before breaking ground can save you money and time overall. McCree's Enhanced Design-Build approach means there is a complete in-house architecture and construction team — dedicated experts at planning for weather-related issues to keep your commercial project on budget and on time.
Orlando Construction Experience That Offsets Weather-Related Concerns for You
Labor shortages continue to be a problem in Florida, and as we enter summer, this is especially true. For sure, the heat here at home is a detractor. It's uncomfortable at best and dangerous at worst. Finding employees and sub-contractors is growing more difficult, and this growing demand may sometimes increase project costs. However, McCree's decades of experience building in Florida and solid professional relationships buffer these concerns for you. Your project's success is safe in our hands.
Then there's the well-being of a dedicated construction team and sub-contractors to consider during summer months. Their health and safety is always a priority for us, and we take steps to protect them on every project. Frequent water breaks are necessary to prevent dehydration and stopping work to take shelter during thunder and lightning storms is a must. McCree General Contractors and Architects of Orlando, FL is always focused on safety, and you should rest easy knowing we make it a priority to keep the people working on your project safe from heat exhaustion and to maintain healthy habits on the job.
McCree's expertise allows for strategic, incremental goals in planning construction projects that protect your timeline while keeping the health and safety of our team the priority. Success comes from excellent planning and execution, and we leverage that expertise for maximum impact and results for your commercial construction project.
High-Quality Commercial Building Materials at Optimum Times Ensures a Project's Lasting Beauty
Standing in the hot summer sun day after day is perhaps unimaginable for us, but buildings are designed and built to withstand the elements, including intense heat. But buildings are at their strongest once construction is complete. Some construction materials require hardening time, such as concrete, or curing time, such as paint.
Orlando summer heat can cause concrete to harden too quickly, which means either a delay until temperatures decrease or adding more water to the mixture. Water slows the drying process, which can be beneficial by adding time, but concrete hardens from the inside out pushing the water out as it hardens. If it hardens too quickly, it can weaken or crack. The drying process takes weeks to finish and, even with added water, the summer heat can cause weakening or cracking during the process.
In addition, a building's exterior walls absorb the sun's heat and quickly grow hot. The heat can prevent paint from adhering to the wall, or it can cause the paint to blister, crack, or wrinkle. Paint discoloration is also a concern.
When planning the construction timetable, your McCree commercial construction and design team also understands it's a good idea to make sure a project is "topped off," meaning the roof should be on, before summer, so the interior of the building is less exposed to weather concerns including heat, rain, and potential hurricanes. Don't forget the afternoon thunderstorms!
All these factors can put a halt to construction and shorten summer workdays. Combined, these repeated delays could move the construction timeline back. However, an experienced Florida-based construction and design team takes these and other weather-related issues into consideration to ensure the best outcome for your commercial building project.
McCree General Contractors and Architects of Orlando takes Florida's weather into consideration at every stage of construction, from concept to scheduling every task, to ensure your new facility is completed in a timely fashion and with lasting beauty. Your satisfaction is our success.
For more information about how we can help you for your project, contact us anytime.