W. A. McCree, Sr. officially began doing business in the Orlando area in 1926. Unofficially the seeds of our business began in 1904 when a sixteen-year-old "Young Willy" began working in East Texas as a carpenter to support his family after his father's death two years earlier. By seventeen, Willy was a carpenter foreman. By twenty-three, "Bill" was the construction project manager for a number of East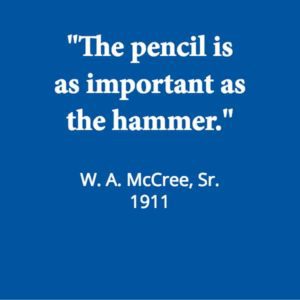 Texas homes, churches and schools.
In that same year, W. A. enrolled in a correspondence course for estimating and drafting. Bill learned that "The pencil is as important as the hammer." This early "Design-Build" insight birthed a more holistic approach to customer care, responsibility and risk acceptance. Bill's innovation in designing and building cast a pattern for McCree General Contractors & Architects that four McCree generations later is fully alive and is the basis of our customer promise of "Designed & Built Right."
Subtle, but Substantive
In 1917, Bill was tasked by L.M. Autrey to build several summer cottages on the Caplen, TX beachfront (near Galveston). One year later, an early August hurricane struck the East Texas beach community. Every beach house was destroyed except the ones Bill McCree built.
Why? Bill assessed the local weather risks, conditions and building standards. Every contractor had access to basically the same tools, nails, materials and people—but not the same thinking and design savvy as Bill. The durability of Bill's design didn't cost Mr. Autrey any extra money. Bill's know-how and ingenuity saved his customer's beachfront cottages and helped him avoid the related headaches of property destruction. Young Bill's subtle, but substantive, design improvements proved that "The pencil is as important as the hammer." He earned Mr. Autrey's respect and became his most trusted builder.
TX to FL
Mr. Autrey's business ventures led him to Central Florida. In the summer of 1920, he recruited Bill as his project manager for various construction projects, including his personal residence. The brick house that Bill built still stands at the corner of Magnolia and Hillcrest and serves today as law offices.
In the fall of 1925, Mr. Autrey was elected mayor of Orlando. Bill was now employed by Orange Investments, Autrey's real estate investment and development business. In good standing with Mr. Autrey, Bill began McCree in 1926.
Through the Great Depression and World War II, Bill learned many lessons about business ownership:
Don't leave a business you know and put all your eggs into a basket you don't know.
Take care of your regular customers first.
If you have to borrow money, then borrow from a local bank so you'll always have someone to talk to should you run into problems.
A.H. Smith, an insurance adjuster with The General Adjustment Bureau, was another important mentor and business relationship for Bill. Mr. Smith's impeccable character and insistence on accurate and detailed estimating honed Bill's expertise. Having earned Mr. Smith's trust, they worked together for over 30 years. Estimating further expanded Bill's appreciation for the power of the pencil to match the might of the hammer.
Construction & Engineering
In 1936, W. A. McCree, Jr. formally joined his father in the construction business. Having grown up around the family business plus graduating from Georgia Tech with a civil engineering degree, he brought a new level of expertise to McCree's valuing of the pencil. During this time, McCree built fine homes in and around Orlando and worked with many noted architects, including James Gamble Rogers II.
Construction, Engineering & Architecture
Fast forward to 1959. To better serve our customers with greater efficiency and quality of work, McCree sought to become a one-stop shop. Being in charge of engineering, architectural and construction services provided the best controls to produce the best customer outcomes. With this idea, McCree was the first in Orlando to have a complete engineering, architectural and construction team on staff. This multi-disciplinary structure is key to accomplishing the management, technical, construction, and administrative services required with every project. Drawing upon internal talent—from architects, designers, interior designer, CADD draftsmen, engineers (civil, structural and mechanical), quality control supervisors, estimators, project managers, superintendents and the trades—smooths out the design and build process from start to finish. All parties benefit with saving in time and money while avoiding costly change orders and other headaches.
Today, we believe your project is too important to play the blame game. Being a true design-build firm, we embrace the extra responsibility for your complete satisfaction. This integrated team approach makes for a more efficient, streamlined process to get you in your new building faster, at the right price and built right. McCree General Contractors & Architects represents mastery of W. A. McCree's adage that "The pencil is as important as the hammer."