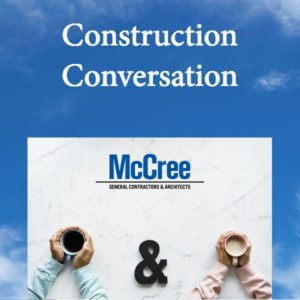 A Construction Conversation is a series of conversations between you, as the customer, and your dedicated McCree Project Manager & Concierge. Construction Conversations progress from the inquiry-feasibility stage to the design, construction and occupancy stages. A hallmark of McCree is you'll always have just one point of contact for everything about your project from inspiration through occupancy.
In your first Construction Conversation, you lay out what you're thinking. A great starting place is to tell us about your vision for your project by completing this simple Construction Conversation form. Within a business day, we'll call you back to discuss what you've submitted.
Please feel free to call Cindy McCree-Bodine at 407-898-4821 x205. Regardless of whether your project is a fit for us, we'll help you.