McCree's patented precast concrete wall panel system gets you in business faster while saving you time and money. Get the look you want.
Uses
Interior Walls: Interior corridor halls are virtually indestructible concrete panels with an attractive textured finish.
Exterior Walls: Almost any exterior finish can be applied, including: cementitious hard board-siding, paint, brick, and/ or stucco/ plaster. Options for roofing include: metal, asphalt or tile.
Savings with Precast Wall Panels
Save about a month off your construction schedule by using McCree's pre-cast wall panel system. Buildings built with McCree's system are safer because our walls have been missile impact tested and approved to Dade county standards. They have withstood severe hurricanes with no damage. You'll save time on construction because:
Walls are designed and manufactured as soon as plans are approved. They can be installed three days after pouring foundation slabs.
The insulation is built into the panels, saving insulation installation time
The wall panels are designed and manufactured to your project specifications and appropriate for your project site. A variety of finishes can be applied, including siding, brick, stucco, and scratch coat. Multistory buildings and any number of door and window combinations can be designed into the wall.
Precast Concrete Wall Panels Benefits
High Quality: The McCree patented rigid wall panel system is constructed in a controlled environment using high quality materials and a state-of-the art fabrication process. Wall panel buildings are constructed using reinforced steel and high-strength concrete wall panels, corridors, and roofing.
Safe: Our walls are missile-impact tested to Dade County standards and have weathered successive hurricanes with minimal to no damage when surrounding buildings had severe damage.
Durable: Precast concrete walls are ideal for high-traffic commercial environments. The high-density concrete does not break or chip easily creating a durable, low-maintenance structure.
Fast: Walls can be erected in days (about 5,000 square fee can be erected per day), minimizing the possibility of delays due to weather and other work site conditions. The wall panels are pre-cast with insulation and are assembled at a manufacturing plant using metal studs and steel bar joists that are embedded into the concrete. This decreases construction time and simplifies integration with other systems such as electrical and plumbing.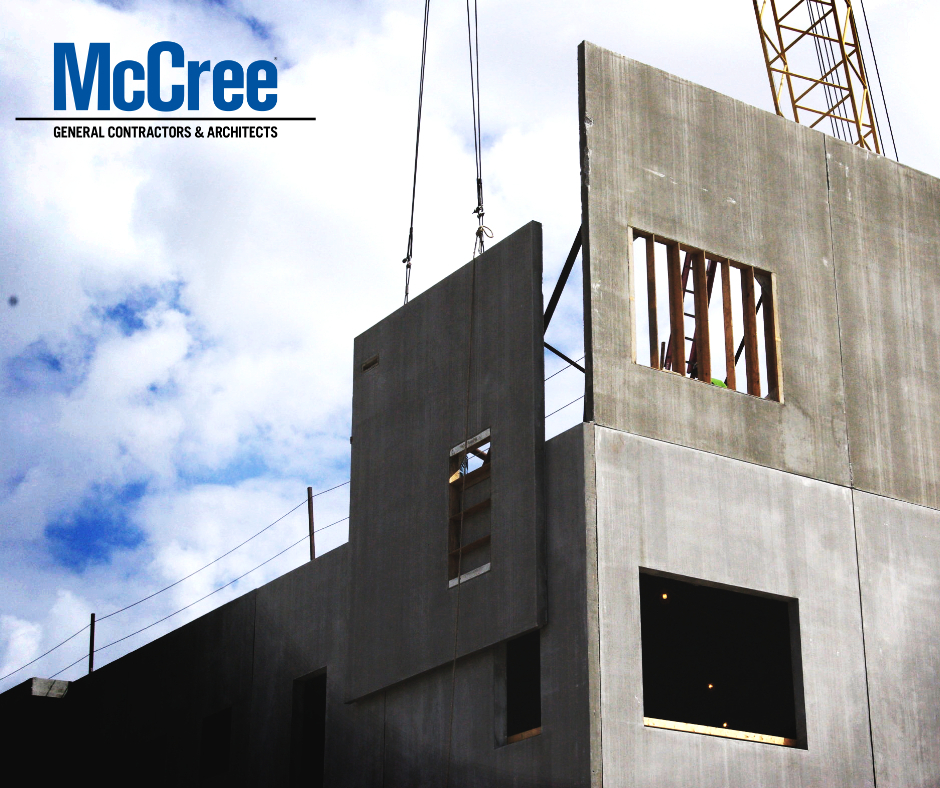 Cost-Effective: Time is money and the time saved on the construction time results in lower labor costs and holding costs. Most of all, you're open to be in business serving customers or patients and earning revenue that much faster.
Flexible: Panels are custom fabricated for each individual project and accommodate almost any architectural design and a wide variety of door and window openings.
Let's Collaborate
Provide as much information as you can about your project and we'll quickly set up a time to review your needs.