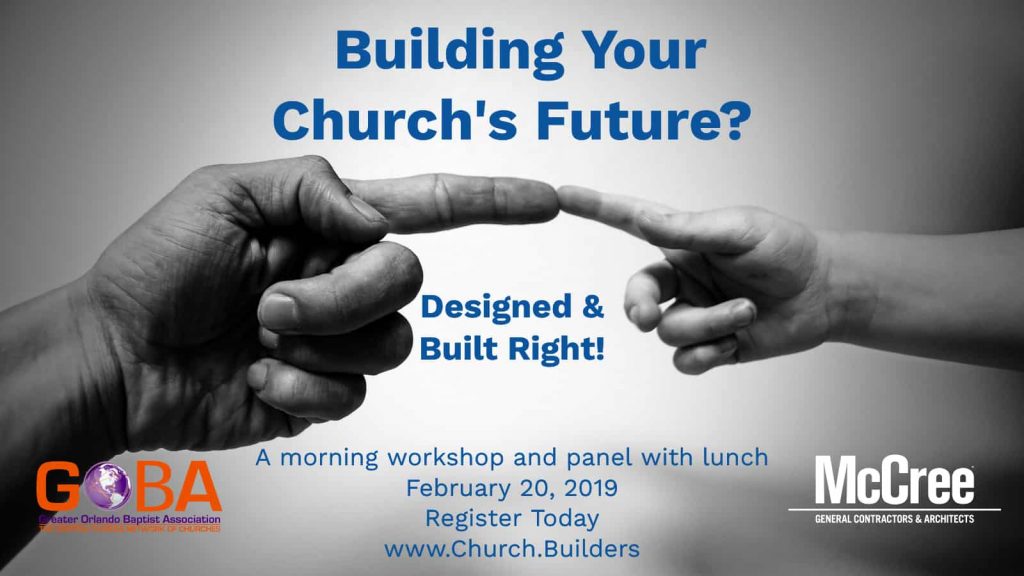 February 20, 2019, McCree Training Room, Orlando, FL sponsored by Greater Orlando Baptist Association, United Heritage Bank, Crossman & Associates, Ramski and Company, and McCree General Contractors & Architects.
What visions were refined today? What lessons were learned? Importantly, what risks were mitigated, headaches avoided, and anxieties calmed? Designing and building can be daunting to the pastor and distracting from the ministry. It doesn't have to be this way!
As one pastor in attendance shared, "At seminary they don't teach about designing and building a church, yet all of us who are vested in building the body of Christ know, at some point we need a place to gather for worship, fellowship, and service. Whether it's building a worship center, a church school, or a multi-use building, we're out of our expertise."
Overview of Presentations
Let's set the stage for church building. It is a long-term project involving several phases, many professionals from diverse industries, and church member buy-in to succeed. Prepare and plan. Recruiting the best talent provides the pastor and church building committee with the most predictable outcome for success while minimizing stress.
Church Financing Matters: David McLeod, EVP & Tim Dunham, SVP of United Legacy Bank provided practical advice and guidelines for preparing a loan application and what it takes to get approved. Here's some of the tips:
Begin your banking relationship well in advance of needing your financing.
Not all banks or bankers are accustomed to doing church loans ask about their experience and get references from other pastors.
As a guideline, about 25% equity is the minimum to apply. The greater the percentage equity, the higher the probability of gaining loan approval.
Many loans today are amortized over 20 to 30 years but have a balloon payment (full repayment) due within 5 or so years. That means refinancing will be in your future. Typically, the refinance closing costs are fairly minimal when the loan rolls over.
Bankers review your church membership, attendance, and percentage of pledging units.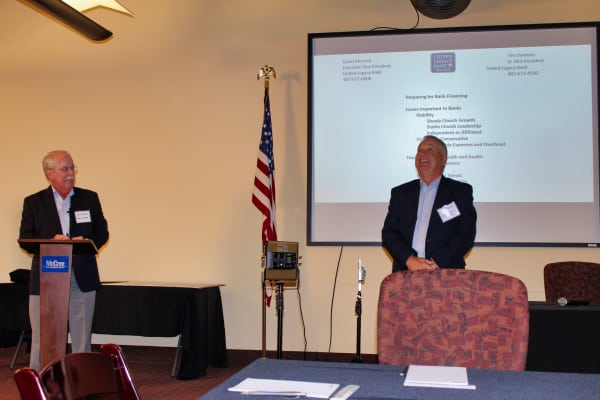 You want bankers on your team to help you sort through the appropriate use of equity and debt for building your church's future. Most building projects are substantial investments – some can make or break your church's financial viability. Before you build your church, build your banking relationship.
"But don't begin until you count the cost. For who would begin construction of a building without first calculating the cost to see if there is enough money to finish it?"

Luke 114:28 (NLT)
Real Estate: Locations, Leasing, and Leadership: John Crossman, CEO of Crossman & Co, one of the Southeast's largest retail leasing, management and investment firms with over 28 million square feet under management, provided wise and crisp counsel.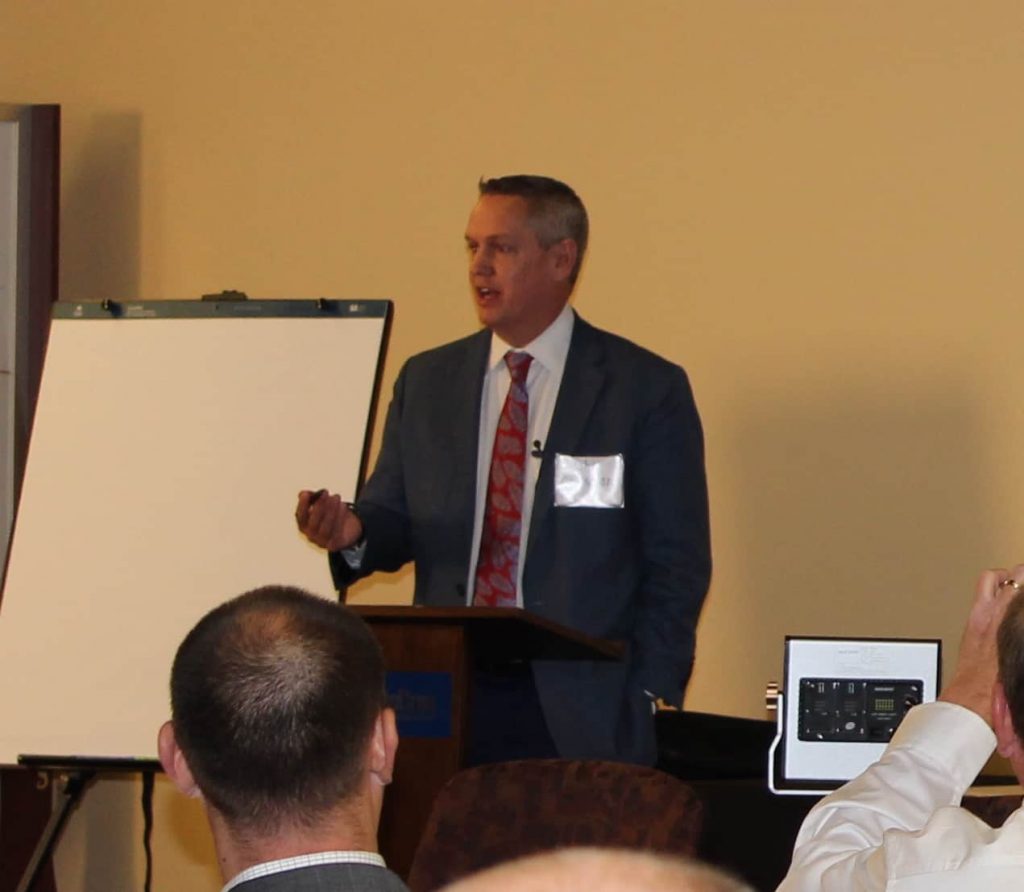 Tell it like it is with respect and dignity is a hallmark of John Crossman's character and reputation. Here's just some of the highlights of his advice to pastors about leasing or buying property.
Before you start a project, pull together an "A Team" of qualified experts to assist you. The natural tendency is to rely on volunteers or people in your church. He shared the example, you may have an lawyer who attends your church, but are they a real estate attorney with expertise in commercial property? Get the best experts you can find to help you.
"The worker deserves his wages." Hire the right talent and pay fair market value. Pro bono work by well-intended near-experts can cost you more time and money in the long run.
When leasing in a shopping center or office complex, get to know your neighbors. Go around and introduce yourself. "Love your neighbors." Some may not be so thrilled that a church is moving into the center so build bridges.
Pay attention to your parking issues and when you're doing services and events. Retailers want their customers to have ready access to their storefront.
Be aware of the full cost of your lease – what's included and what isn't. Common Area Maintenance (CAM), utilities, property taxes, janitorial, waste removal and other expenses may or may not be included depending upon the type of property being leased. Ask the landlord to explain it to you in detail.
When you're ready to go from leasing space to owning space, be prepared to develop or acquire the talent with a new set of skills called property management.
Grocery stores focus on the people within a 2-mile radius of their front door. Consider this natural market as you locate and then build your church community. Take care of those close to you and be thankful for those who travel longer distances to be a part of our community.
Construction: Concept to Key: What To Expect When You're Building Your Church.
Think for a moment about the vision you have for your church. How much space will you need? What needs to take place in this space? Let's revisit Luke 114:28 (NLT): "But don't begin until you count the cost. For who would begin construction of a building without first calculating the cost to see if there is enough money to finish it?"
How do you count the cost? Who does the calculation to help you set the budget? What if you have $10 million vision but a $2 million budget?
Richard McCree, Jr is a Professional Engineer and the CEO of McCree Contractors & Architects. He leads an inhouse team that helps Pastors and visionaries efficiently and effectively go from Concept to Keys in a 10-Step Process. In short, his team helps you set the proper course, so you arrive with safe passage from where you are today to where you want to be tomorrow.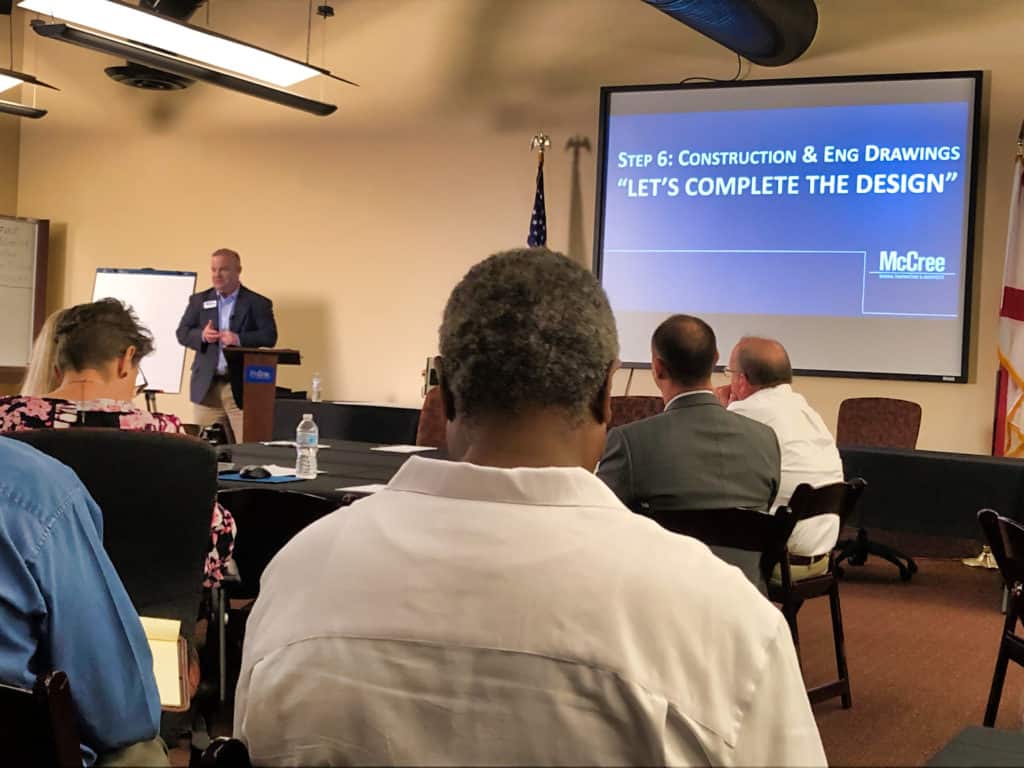 How you contract your contractor defines your relationship. There's the complicated, confrontational, and circuitous split the design and construction and bid out each approach typically used by savvy organizations with a staff of construction professionals and lawyers. There's also the trusted partner approach which for most churches is more likely to produce a positive outcome.
The Concept to Key booklet is available from McCree. Each chapter outlines each of the 10-steps a church visionary needs to know to avoid costly mistakes that first-time (and even experienced) owners make. Contact McCree to obtain a free copy of Concept to Key.
Always check references on your design and construction team.
The "Design-Build Approach" provides you with one point of responsibility. This simplifies the process for church building committees and pastors.
Architectural plans to draw permits to build are typically not the same as working drawings used for the actual construction.
A good contractor will guide you through the entire design and build process at least three times. First to make sure your concept is sound, buildable, can be permitted, and funded. Second to tighten down decisions before going to final drawings. Third, to actually construct the building. Each iteration minimizes surprises and builds confidence that the budget, schedule, and quality standards will be achieved. In other words, you'll be happy and proud.
Master Site Planning, Design Styles, and Interiors are typically the "fun part" where vision is translated into reality.
The church is the people. You have a vision for the people. Yet, who are the people who ask you questions? Who extracts your vision from you and translates your ideas into plans that become viable, functional spaces? Meet your design professionals.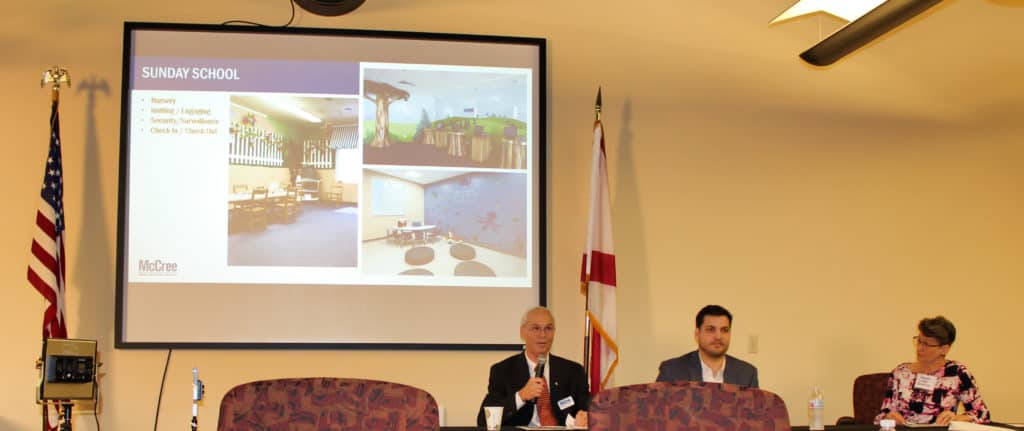 Each professional serves a vital role is shaping, texturing, coloring, and crafting your design to bring your vision to life and to create the cultural and church experience you envision.
If you have land for future expansions, always invest in a Master Site Plan to best utilize the blessing of your extra land.
There are many trends in church design. Many are influenced by the use of technology and security, especially where children are on site.
Buildings speak to what's important. Interior design reflects your church's purpose, plan, and style. You need a listening ear and a design team who asks you a ton of questions so your buildings convey your beliefs.
Building Your Church's Future amounts to Leading Your Church's Future. This translates into leveraging the expertise of professionals in their respective fields.
God has planted a vision for ministry in your mind's eye. Yes, you are the leader of the project, but we know you first a shepherd of the flock and a steward of time, talent, and treasure.
Something we talk about here at McCree is, "Do More of What You Do Best More Profitably" – where to Profit is best understand as making a difference by adding value. You are the Shepherd. You are the Steward. We are the bankers, the real estate experts, the engineers, the architects, and the interior designers. It is our job to navigate you through smooth waters, to advance your building project from where you are today to where you see it being tomorrow with the least risk, worries, and the best results so you are free to do more of what you do best more profitably. Let all of us help you build the buildings, so you are free to build the people who build the Kingdom on earth as it is in heaven.
Next Steps
Please reach out to any of the professionals who presented (links are provided for each person.) Each was there to serve the pastor/visionary so they can be better stewards and shepherds.
FYI: Topics and Presenters:
Presenter were invited because of their decades of experience working within the religious community as well as their commitment to serve.
Church Financing
David McLeod, EVP
Tim Dunham, SVP
United Legacy
Real Estate Leasing and Locating
John Crossman, CCIM, CRX
Crossman & Company
Enhanced Design-Build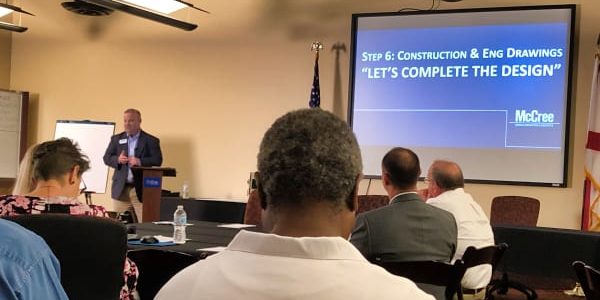 Richard McCree, Jr., PE
McCree General Contractors & Architects
Master Site Planning, Design, and Interior Design
Tom Griffin, AIA
Steward Nielson, Architectural Designer
McCree General Contractors & Architects
Jennifer Ramski, IIDA
Ramski Company