Medical developers and practice owners have the unique opportunity to serve the community as few can. Expanding services to meet the growing healthcare needs of the community while improving the bottom line of your practice group is a worthy calling, yet with any type of business growth, growing pains are bound to come. When do you know it's time to expand your facility?
A well-planned and executed expansion project should always solve real and important challenges — for patients, healthcare staff, facility management, administration, and of course, your bottom line. A quality Design-Build company will be able to put together a construction plan addressing these challenges while preparing for future ones.
Here are five reasons why you might want to look at expanding your urgent care or practice facility sooner rather than later.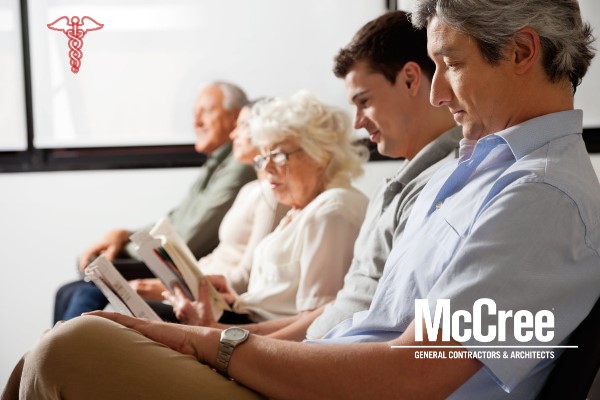 Visibly outgrowing space
If your current care offerings, patient demand, and staff are growing beyond the capacity of your current facility's space, it's time to expand. One such challenge could be redesigning the size and amount of patient rooms at an urgent care facility when there's adequate staff to meet current demand. In this case, the facility is holding back growth. A plan that addresses patient flow from check-in, to the waiting room, to patient rooms, and lastly to patient check out will dramatically help meet demand and increase revenue.
Facing limited growth of new services
Technology is constantly evolving, and the medical industry is on the cutting edge. For example, when your building as currently constructed is preventing an OB-GYN office from adding the latest and greatest three-dimensional sonogram machine or a second machine to meet the demand of patients, then expansion might be worth considering.
Dealing with inefficient facility/campus
It can be a drain on your support staff when they need to make unnecessary trips around the office for various reasons. Creative designs can place workstations or nurse stations in strategic areas relative to other key areas such as the billing department. This will save time and increases efficiency.
Experiencing multiple maintenance challenges
Patient experience is a priority and building maintenance problems will likely hinder that experience. Plumbing problems in the patient waiting room or drainage problems in the parking lot can drive patients away. If you're constantly addressing issues such as these or other foundational building problems that patients notice, an expansion project can remedy those.
Anticipating future growth
Maybe an urgent care facility across town is going to close its doors within a year, and you know you will receive an influx of patients when the closure happens. You know it's impossible for you to meet the increased demand at your current office. A great Design-Build company can help you anticipate such demand as well as plan for further growth.
The best way to address all these issues in an expansion plan, or in a new construction project for that matter, is to contact a reputable Design-Build team. McCree's Enhanced Design-Build service model offers a single source of responsibility from concept to completion. Our complete, in-house team of architects and builders work together to solve the facility issues that are plaguing your current service model. Our solutions will cut costs and streamline your process to ensure you deliver the best possible service to your patients.
For more information, contact us today. One of our expert medical Design-Build pros will be happy to meet with you to discuss the most viable options for your patients.