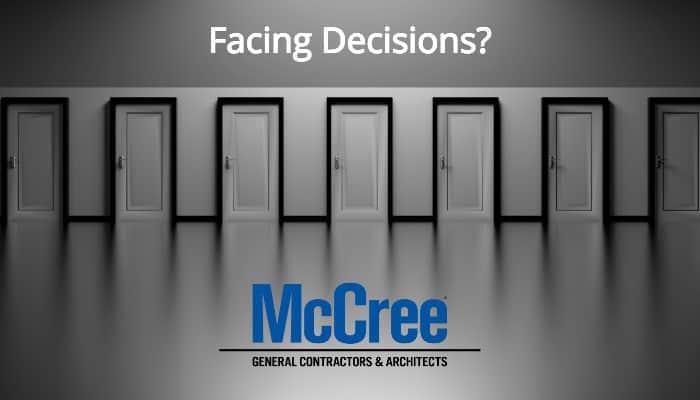 Now that you've decided to expand your workspace by constructing a new building or renovating your existing one, there are dozens of exciting decisions to be made. In this second post in our two-part series we are tackling the questions and concerns that customers share most when taking this next step in the designing and building phase of constructing or renovating their commercial building.
How do I hire the right architect?
Your architect is the foundation of your design team and finding the right architect to partner with in developing a plan for your construction or renovation project is one of the most important decisions you'll make. A lousy design will ultimately lead to issues down the road with things like functionality of space, poor quality, maintenance, future use or expansion and/or efficiencies of the building. At McCree, we take pride in being one of the only true Design-Build firms in Central Florida. This means that the design and construction of the building happen within the same four walls and by the same company. The Enhanced Design-Build model at McCree ensures that all members of your team are on the same page and no detail large or small is lost in translation.
I can't afford for construction time to negatively affect my business.
Designing and building is an inherently creative and sometimes disruptive process where the next unexpected event is always right around the corner. Finding a great firm that meets timelines and budgets is key to minimizing disruptions to your business. At McCree, we ensure your company has a single point of contact with our firm, so you can rely your questions, concerns, and updates never get lost in the shuffle. This simplifies your life and frees you to focus on your business. You gain high accountability, attend fewer meetings, get no excuses, gain time savings, and bask in confidence the right hand and left hand are working together to serve you.
How do I find a builder I can trust?
First and foremost, you must ensure the firm you hire is licensed, financially stable, available and not too busy to provide the work, willing to provide references and guarantees on their work. Maximum price guarantees protect you from cost overruns and having this documentation in advance gives contractors an incentive to provide accurate estimates and manage costs effectively.
Other questions you should ask of your contractor are whether they have expertise in constructing sustainable buildings, if they use new and innovative construction methods, and if they're willing and able to provide references from satisfied customers as well as full information on any past legal disputes. The most trustworthy builder is the one who is willing to be the most transparent with their new and potential clients.
Can I be involved in the design of my building?
Many customers have spent time imagining what a new building will look like and how it will support their business operations. If that is your case, it's important to find a firm that will listen to you first. Based on your descriptions, McCree will develop a progression of plans that reflect your business in style, culture, and function. If you don't know where to begin, that is okay, too. Your architect will ask you a series of questions and derive a design plan that will suit your needs and your company.
I want to work with a company that shares my values.
At McCree, we believe in operating our business with integrity, so our clients realize true value from their projects on their terms. We believe in walking our talk, putting our clients first, and providing concierge-level service that keeps you informed. We've been serving the Central Florida community for nearly a century. McCree is more than just an old family business, we are innovative, relationship oriented, customer-centric firm that takes pride in designing and building the perfect space to help your business grow and thrive.
For more information about how we can help you for your project, contact us anytime.