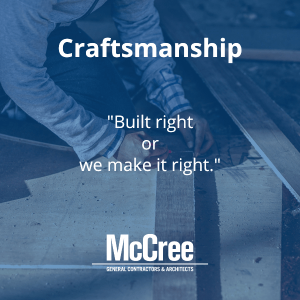 This is the first of a five-part series of posts about the McCree values of CARES, the glue that binds us. CARES is the lifeblood of a hand-picked team that's assembled for their desire and capacity to deliver far beyond the basics of arranging bricks and mortar in order to build delightful construction customer experiences, to instill pride of ownership, and to establish lasting relationships. Our values reflect W. A. McCree, Sr., our founder, and are an ethical heritage passed through generations of the McCree family and our team members. The natural outcome of this legacy of leadership is our Designed & Built Right promise.
Craftsmanship: "Built right or we make it right."
Adaptable: "Plan ahead. Adapt to the day."
Realistic: "We say what we mean. We mean what we say."
Effective: "Seek first to understand, then to be understood."
Stewardship: "To whom much is given, much is required."
C is for Craftsmanship
Craftsmanship provides greater real value over construction alone, period. All contractors have access to the same tools and materials, yet the end result in a specific project varies widely based on the talent, experience, and passion of the people engaged in the design and building process.
Such hidden value eventually emerges in the planning, design, and construction as significantly lower risks to the budget, schedule, and standards. During occupancy, a well-crafted workspace positively affects working conditions for team members, and it reduces operating and maintenance costs. Better fit and finish along with attention to detail convey to customers and team members alike that their needs have been considered well before they ever walked through the door.
Craftsmanship is the result of craftsmen, people who are expert at their trade. Within the McCree family of companies are craftsmen in seventeen different trades such as woodworking, carpentry, painting, and more. We know who's right for the job regardless of whether it is an outside firm or our team, and how to create a right relationship to get the right results.
Craftsmanship and the "trades" are typically related to the physical aspects of work. At McCree, craftsmanship extends to every team member. Professionals such as our in-house and consulting engineers, architects, general contractors, project supervisor, and accountant are also masters of their craft. Our support teams—the customer concierges, the receptionist, and others—also have an expertise and pride in belonging and delivering on our promise of Designed & Built Right.
Craftsmanship equals high standards and endurance. The trend toward the low-bid, commodity-priced contracting process of construction has a dark side. Behind the freshly painted walls and under the recently laid flooring of a newly built or renovated workspace are innumerable decisions made by the designer, contractor, supplier, and person performing the work. Hidden here unbeknownst to the average owner are the secrets of cutting corners. Given time, substandard work rears its ugly head at the owner's expense. Nearly every contractor can make something new look good, but over time will it endure?
Craftsmanship is doing what's right with the work at hand for today with an eye toward the implications for tomorrow. From concept to the customer being handed the keys to their place, this always do right mindset is embedded in every project's planning, people, and processes. Pride in workmanship and craftsmanship go hand in hand. Members of our team are sought, trained, and rewarded for this level of attention to detail today and for acting in the long-term best interests of the project and its owner.
McCree CARES and we start with Craftsmanship. Many structures McCree built in the 1920s and since that time remain in use today in large part because of our commitment to craftsmanship. Those who take a "throw away building" approach to construction or a "flip it" mentality make structures appear to be cost-effective when built. The idea of a long-term view of ownership, pride in property, and sustainability can be discounted as a luxury. In fact, the cost of materials, labor, and services are relatively consistent from contractor to contractor. The difference is the desire of the owner and people involved to do it right the first time.
All other things being equal, craftsmanship is more likely to produce an appreciating real estate investment and, most importantly, forge relationships that stand the test of time. Reputations matter, and our reputation is on every project we build.
Throughout the ranks of McCree are craftsman with decades of employment at McCree. Certainly, we have younger, less tenured members of the team whom we steep in the McCree Way. As was written at the beginning, our values bind us from generation to generation.
For more information about how we can help you for your project, contact us anytime.