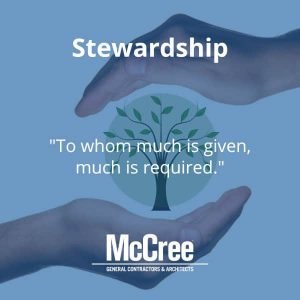 Over the last four weeks, you've been reading all about the McCree CARES acronym as it relates to serving you, the customer. This provides a "true north" for our company, and without these values, it would be impossible to adhere to the McCree "Designed & Built Right" promise.
Craftsmanship: "Built right or we make it right."
Adaptable: "Plan ahead. Adapt to the day."
Realistic: "We say what we mean. We mean what we say."
Effective: "Seek first to understand, then to be understood."
Stewardship: "To whom much is given, much is required."
Stewardship begins with recognizing an opportunity.
S is for Stewardship
"To whom much is given, much is required." As Luke implies, when you engage McCree, you aren't just asking us to construct your space, you're entrusting the precious hopes and dreams of what will take place within those walls and beyond. You deserve a return on your trust as well as the realization of your dreams.
Stewardship is native to McCree. We care for your project as if it is our own because in our minds it is.
Every standing building we've built since 1926 bears our name. While the McCree name doesn't show on the signage or isn't inked on the deed, it's the craftsmanship of our deeds that is bonded into the bricks and mortar. Like an appreciating work of art, a building may change hands, but the artist's inspiration, perspiration, and reputation remains.
Stewardship in construction is built from six materials:
Establishing a working relationship and personal chemistry
Caring enough to listen and understand your needs
Translating your desires into working concepts, designs, and documents that meet your needs and budget
Creating a smooth and efficient construction project
Transitioning you smoothly into occupancy and ownership
Minimizing long-term maintenance and repairs
Stewardship means to be entrusted with the care of another's property.
Before the founding of our company in 1926, W.A. McCree Sr., our founder, recognized the trust, hopes, and treasure an owner delegates to the architect and contractor who are often two separate entities who may or may not work well together. It can be harrowing!
Willy, as our great-grandfather was called by his friends, knew there had to be a better way to guide and serve the owner. The first of his many innovations was to create for owners a "one point of contact" approach. Today, we've expanded on his genius to include in-house engineering and numerous trades, such a millwork, concrete, and more. This is known as our Enhanced Design-Build approach. This, plus our Concept to Key 10-Step Process, all but ensures an on-time, on-budget, smooth design and construction experience.
Regardless of whether you use your architect or ours, McCree remains your one point of contact—the company owning the brunt of the construction risk and responsibility. By all but eliminating your chances of "finger pointing" and protecting you from the day-to-day fray inherent to our industry, all of us benefit from getting the job done efficiently and effectively with the fewest problems.
Since the early years of Willy, our family continues to live, design, and construct in Central Florida. Our clients are neighbors, friends, and colleagues. It may sound cliché, but we want to sleep well knowing that you realized tremendous value and benefit from our relationship. Our highest compliment is for you to say, "Thanks to McCree, I realized tremendous value and had fun getting my project done."
James tells us "All good things come from above." The blessing of doing business with generations of old friends and the privilege to serve new friends enriches all. Where one's reputation is a reflection of the past, stewardship creates our future reputation.
As described above, we are "co-owners," of your project. Stewardship is not something we do. Stewardship is who we are. Your success is truly a badge of our success.
For more information about how we can help you for your project, contact us anytime.