Environmental sustainability has become a norm in commercial construction. As for the level of sustainability, well, that depends upon zoning regulations, economics, owner preferences, and architectural and engineering savvy.
When you commit to building a greener building, McCree is with you. Standard green practices are incorporated into every project, including LEED (Leadership in Energy and Environmental Design) certified architects and contractors that work closely with you to design and build a high-level environmentally sustainable new construction or renovation project that meets your needs and objectives.
You'll get experienced professionals who are well trained to find cost-effective ways to implement environmentally efficient standards. While not every McCree client wants LEED certification, all projects incorporate environmental sustainability. We take pride in helping you design and build a green workplace.
What Is LEED?
LEED is the most well-known of the energy and environmental certifying agencies and sets the standard in sustainable design and construction worldwide. According to the LEED creators, the U.S. Green Building Council (USGBC), every day 2.2 million square feet of space is LEED certified. There are now 92,000 certified commercial LEED projects. All of this is to ensure impactful design and construction measures that create healthy workplaces, limit resource consumption, and reduce our carbon footprint.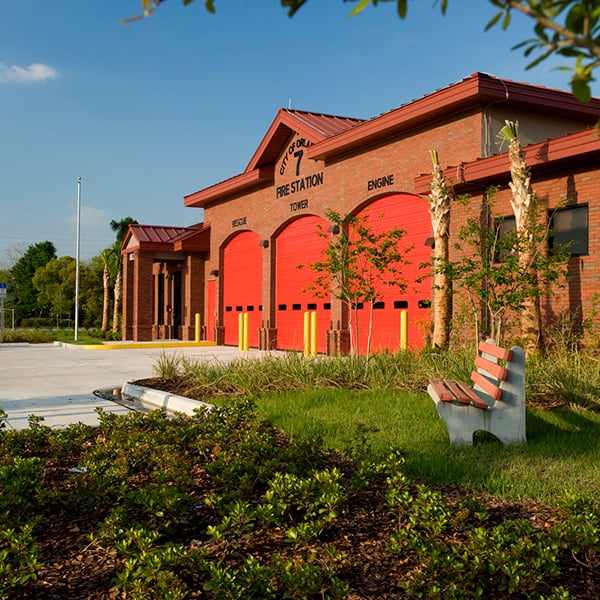 Built by McCree in 2010, the City of Orlando's Fire Station #7 is the City's first "LEED-Gold" certified fire station. There are five levels of certification that range from "LEED-Certified" to "LEED-Platinum." Each increasing level incorporates additional sustainability features.
LEED-certified sustainable design takes a look at the following five categories in design and construction:
innovation in design
indoor environmental quality
materials and resources
energy and atmosphere
water efficiency
While benefits vary among projects, over time LEED-certified buildings bring reduced operating costs. This cost reduction comes from decreased use of resources, such as water and energy, resulting from architectural design features, modern lighting and plumbing fixtures, and other materials. These cost savings combined with LEED criteria for improved indoor environmental quality means LEED certification benefits you, your employees, and neighbors.
What McCree's LEED Expertise Means for You
The first step for many clients is to get a feasibility study that will uncover environmental options and requirements for your area. At that point, your McCree Design Team will work with you to create a comprehensive environmentally conscious plan for you that can include LEED certification. This will be the beginning of an exciting and enjoyable construction process where a caring team walks with you every step of the way to ensure your project reaches maximum sustainability while meeting your unique needs.
Our expertise means you are building a greener building and contributing to a greener community. Your sustainable project is in good hands with McCree.
For more information about how we can help you for your project, contact us anytime.