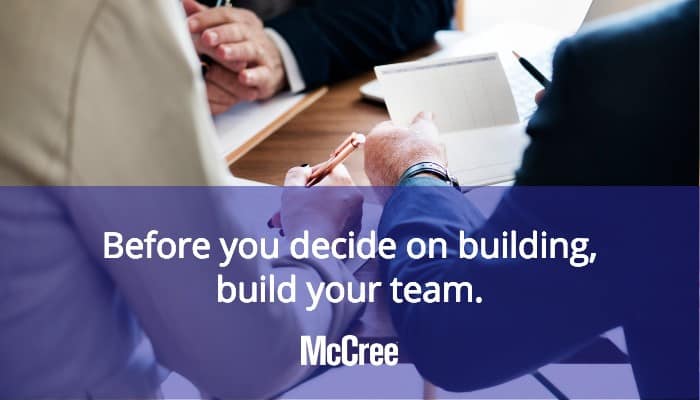 It is a great time to be in business in Central Florida! The economy is thriving, and companies are growing, yet there are always growing pains. Hiring new and high-caliber team members is a high priority in business but finding room for them to work effectively and efficiently is a new challenge altogether. Constructing a custom new building where your team can thrive, and grow is starting to sound like music to the ears.
New construction for your business can seem very overwhelming at first, even a big hassle. Don't fret. Like most things, once you know the facts, it can be one of the most exciting times for you and your team!
This is the first of a two-part blog post on making sure designing and building a strategic workspace for your business is the right thing to do. This post will address common concerns regarding your initial interest. Part two will delve into research of designing and building your project after you have a good idea of what you need and the means to accomplish it.
For now, what are those initial first steps?
First, Evaluate Your Work Space Options
The sheer scale of a construction project demands a major commitment from any entrepreneur. Before you dive in, you should closely evaluate all options that are feasible for your business and growing your team. There are several options available like building, renovating, expanding, leasing or buying. Find a financial advisor or consultant to help evaluate your particular situation, or at least someone to talk it through with you. Maybe even get a second opinion. Once you've carefully determined your objectives and weighed all the various options, you can then make the best decision.
Can I Afford to Construct A Commercial Building?
Chances are, you will need to take out a loan to fund your construction project. Again, it is important to seek the counsel of a qualified financial advisor who can help you determine the affordability of your project, how much money you'll need from start to finish and the right financing solutions for your needs. It helps to start with a good business plan so that you can make realistic revenue projections; this will help you gain the confidence of lenders that you can handle a project of this scope without endangering your company's financial health. If you have the cash on hand to self-fund your project, it is still a good idea to talk to a financial consultant on how such a purchase will impact your financial statements.
At the same time, we recommend consulting with your Design-Build firm to determine the cost of construction with regard to whether the property will accommodate your building or renovation. Your Design-Build firm can simultaneously work in conjunction with your financial advisor to make sure both goals are met.
What About Hidden Fees, Impact Fees or Building Permits?
Once you've made the decision to move forward and better understand the projected costs, you'll need to be sure that you've satisfied all local rules with the right permit. It's wise to do this as early as possible. Rules can vary greatly depending on whether you're building new premises, altering existing premises, changing the appearance of a building or altering its use. Building codes generally apply to new construction and have traditionally been concerned with fire safety, structural soundness and building occupants' health. At McCree, we can help you check with the governing municipalities to see exactly what you're allowed to do with and/or without a permit.
What Should I Expect When Building in Orlando, Florida?
Building in Florida can be a stressful idea with the threat of hurricanes and severe weather. However, thanks to quality building codes, newer commercial buildings in Florida have survived recent hurricanes relatively unscathed. A recent Orlando Sentinel article ranked Florida top in the nation for its commercial building codes, as newly constructed buildings can better withstand hurricane damage. Chances are a new building will better withstand strong winds than an old one. And, if you are looking to buy an older building, it is likely easy to bring up to today's code and standards. At McCree, we always go above and beyond minimal building code standards to ensure quality.
How Much Land Will I Need?
There really isn't an easy way to answer this other than it depends. A lot of factors play into the amount of land you'll need such as location, projected building size, other goals etc.
Although a new commercial construction project is an exciting, yet daunting task, there is no need to do it alone and without guidance. As a first step, McCree offers a feasibility study. Not only will it give you an idea of how much land you might need, but it will also provide insight on the overall cost of your project. Regardless of what or how many options you're considering with your project, you can find great insight from a feasibility study. It will be a modest fee, but the peace of mind is priceless.
For more information, we would be happy to sit down with you to discuss options on moving forward or get started on a feasibility study. No matter where you are in the decision-making process, we'd be honored to hear your story and help customize a workspace that will help your team operate at its highest level.