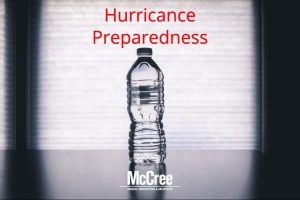 Business owners are constantly juggling multiple priorities. And then a hurricane comes along! Hurricane preparedness can make all the difference to your business' cash flow. In short, hurricane preparations offer an amazing ROI by minimizing your business disruption and building trust with your customers.
Don't let the hurricane season and the threat of a hurricane can catch you off guard. Preparing your own home for an impending storm is one thing, but diligently working to make sure that your commercial building will make it through a significant storm unscathed can add to the pressure. However, with some simple pre-planning, you can rest easier knowing you won't have to scramble at the threat of a hurricane. Just as you have a routine to prepare your home against strong weather, here's some helpful guidance for preparing your workspace for the next weather event.
Many of the same hurricane preparedness initiatives that you follow at your home also apply to your commercial building. Do the following:
• Move indoors any signs, planters, or outdoor furniture that might get swept up in strong winds
• Shutter your windows with plywood or invest in storm-rated shutters.
• Survey trees on your property so that they don't become a falling or flying hazards. Avoid parking company vehicles under or near their potential fall path.
• Unplug all electronics when possible.
• Move valuable items away from windows and doors.
• Back up all information and data.
• Create a game plan for what to do after and communicate to employees before the storm.
• Place your property insurance policy and agent's name in a safe place
These simple tasks can make a big difference in staying safe, protecting your assets, and being a good neighbor.
In the midst of what is sometimes only a few days to prepare for a hurricane, you still need to carry on with business as usual. Assemble a Hurricane Preparedness Team of staff members from each division to develop a plan and implement it each time a hurricane threatens your business. Tasks to be completed or organized by this team may include managing the storm preparation for the property, alerting customers of possible delays due to inclement weather, as well as managing the clean up after the storm so that you can get back to business as soon as possible. Add the Hurricane Preparedness Team formation to your spring calendar on a recurring basis so you remember to lead the charge and form the team.
All of that hurricane preparedness is moot if your building isn't sound.
When is the last time you had your roof, windows, and doors inspected? Do you really know what risks you face? Consider asking your property casualty insurance company to do an inspection. These are often free to you because they want to minimize their potential claims. By taking their recommendation and implementing them, over time you may be able to reduce your insurance premiums sufficiently to pay for upgrades and repairs. Plus, a fresh coat of paint and some improvement can enrich your brand appearance and workplace atmosphere.
When building a new commercial space for your company (or renovating your current space), add "ability to weather a storm" to your list of architectural and construction priorities. These days, Florida building codes make considerations for our hurricane season, so buildings even in heavily hit areas like Miami Beach are able to sustain high winds and flooding now better than ever. Partnering with an experienced builder who has a reputation for building structures that go above and beyond the building code standard is an excellent preemptive step in protecting your commercial assets.
Many older buildings can be retrofitted and reinforced to better sustain high winds and flying debris. Upgrading doors, windows, and storefronts to higher strength frames and panes can afford you better protection for your contents.
Safeguarding your workspace can be a great team building event that also minimizes stress before, during, and after a storm event. With a little pre-planning, you can effectively reduce the risk of any storm damage.
If you're ready to invest in upfitting or building a new, hurricane-safe commercial facility, contact us today to learn more about McCree's Enhanced Design-Build™ approach. Let's design and build your vision together!