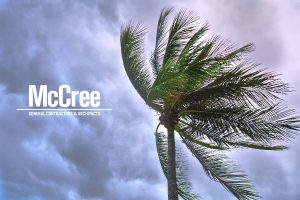 In Florida during late summer and early fall, it seems like we all turn our attention to the tropics in anticipation of a minimal hurricane season. We've all seen what happens to those who don't prepare as they scramble to get ready but run out of time.
Just like your personal residence, there are things you can do to prepare your commercial property for an impending hurricane. Just like for your residence, the best game plan to prepare your business property and operations for a hurricane is during the offseason. To thoroughly prepare, we recommend reading our latest e-book, "Commercial Construction and Hurricane Preparation: 6 Ways to Stay Ready."
However, what happens when there are only days to prepare? McCree's Chairman of the Board, Richard McCree, Sr., says, "Preparing for a hurricane is mostly common sense; it's like putting on a seat belt, but most people are busy and don't think about it until it's a necessity."
Conduct a common-sense self inspection of your property about once a month or before a storm by walking around the building. Create a "punch list" of repairs. Depending on the timing of a possible storm, repairs may not be as thorough, but something is better than nothing.
Here are five things you should do right now or when your business is in the path of the storm.
Secure Loose or Rotting Building Materials
Beyond cosmetics, trim protects joints and equipment. If blown away, then the underlying vital building components face extraordinary exposure. Avoid such escalating damage by taking care of the details and protecting those areas from the elements.
Check Your Windows
Look for any cracks that weaken the integrity of the window's rating to withstand wind or that would allow water to enter your workspace. Look closely because lawnmowers often throw rocks into windows causing spider cracks or a full-on crack. Look at the seals around the windows for dryness or loss. If time is of the essence, board windows, or at the very least board those that have poor integrity.
Roof and Gutter System Integrity
The weight of backed-up roof water stresses the roof. Check your roof tiles or shingles to see if any are missing. Pay close attention to the valleys where two roof lines intersect. For flat roofs, have a professional check the flashing. Anytime you have water leaking through to the interior ceiling, you have a problem. Fix it before it gets worse. In a pinch for time, hire a professional to secure a tarp.
Doors
Every door, from the front door of your office to the dock doors of your warehouse, has a threshold, protective trim, and weather stripping. Remember to check them for integrity. Before a storm, broom clean the weather stripping to ensure a more trustworthy seal.
Check Walls and Ceiling
Check walls (interior and exterior) and ceiling for cracks or leaks. Cracks in stucco may be surface versus structural. But how do you tell the difference? Sometimes it is obvious. Many times, it isn't. If pressed for time, hire a professional to temporarily seal cracks until the storm is over. When in doubt, call us to check it out.
It's of utmost importance for you to enter hurricane season with peace of mind knowing your commercial property and operations are secure. We highly recommend that you download our ebook, "Commercial Construction and Hurricane Preparation: 6 Ways to Stay Ready."
McCree CARES
If you suffer damages to your commercial or high-end residential property during a storm, please call us to help secure your property from further damage. As hurricane warnings arise, we secure every construction project that's underway to withstand the predicted damage. This frees our construction crews to rapidly mobilize to help our customers secure and recover from damage. McCree General Contractors and Architects of Orlando, FL CARES – and we mean it.