McCree started in 1926 as W. A. McCree Sr.'s dream to provide quality buildings to people in Central Florida. That is still the founding principle of McCree today. Currently in its fourth generation of family ownership, McCree employs over 70 employees and is headquartered in Orlando.
In 1959, a need was recognized for greater efficiency and quality of work in the construction industry. With one company in charge of both architectural and construction services, the product outcome would be easier to control and would delight the customer with the ease of one responsible party.
With this idea, McCree was the first in Orlando to have a complete architectural team and construction team on staff—the design-build approach.
This organizational structure, plus our contemporary CARES & Concierge services, are keys to better serving customers through accomplishing the management, technical, construction, trades and administrative services required for every project.
By drawing upon internal resources for our own estimating, site planning, architecture, interior design, CADD drafting, engineering (civil, structural and mechanical), quality controlling, supervising, project management, superintendents and many trades, we create the most customer-centered team imaginable for a designed and built right outcome for all.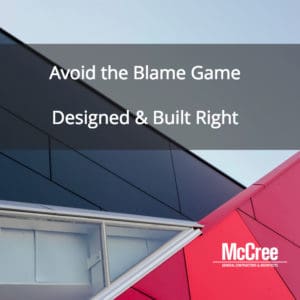 Our relationship, your investment, your time and the quality of your project is respected. One point of contact means you don't have to play the blame game between battling professionals, contractors and sub-contractor. The McCree Enhanced Design-Build approach means one call to THE only responsible party prevents you from getting involved where you lack deep expertise. This makes for a more efficient, streamlined process to get you in your new building faster and at the right price.